I neglected to search around on the AHL scores last night due to being quite tired, but this morning I see that Bates Battaglia nailed two goals last evening. Excellent. Now if he can just get back in the N this year that credit I have w/ meigray will be quite useful.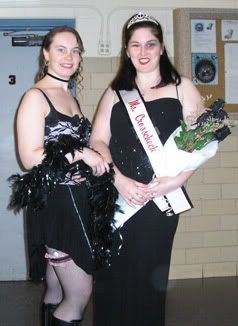 I'm also posting the pic of Beff and I from the halloween game all geared up in our costumes. Beff, the girl who "works upstairs", and me, as Ms. Crosscheck. Time to start thinking for next year.
A new strategy, my friends, is on the horizon. They say to use what you've got. What's the one skill I have? The innate ability to piss other women off without hardly trying. It's time to embrace that skill and focus on it rather than my feelings of awkwardness. I think the fruit of that labor will work its way in from another angle. I'm already under the skin. It's time to become a festering boil.
Today I busted some ass on the paper and have everything written at this point, it just needs cleaned up and double-checked. Not much of a sollace considering I then need to get started on subsequent sections. I also hit the mall with Beff and purchased a few more Christmas gifts. I'll eventually get all of that done. At least one of the last steps of our travel plans are finalized now too - the excursions. I can't believe it's less than a month before I head off to the caribbean and then home again to exit the very next day to go out west to watch the boys. Hopefully we'll have a winning streak rolling by then.
"Did the boys all tease you when they had the chance? Always left standing when it came time to dance. -Tonic"